Barbie Millicent Roberts is an American actress. She is based in Malibu, California, USA with her sisters and pets, and she is dating Ken Carson.
Background
Barbie was born in Willows, Wisconsin, and then moved to Malibu as a young teenage girl. She was an actress by the age of 16, and still attended high school while shooting her movies. Her parents are George Roberts and Margaret Roberts. Her sisters are Skipper, Stacie, and Chelsea. 
Official Descriptions
These are descriptions from the official Barbie movie websites.
A Fashion Fairytale
Barbie is a cool confident girl with fantastic style. She's fun to be with and an incredibly loyal friend. Barbie uses her creativity (and her huge network of friends and fans) to save her aunt's business. She also inspires her friend Marie-Alecia to share her gift for fashion designing and make her dreams come true. Along the way, she even rediscovers her own inner sparkle!
A Fairy Secret
The fashion forward movie-star is about to learn a lot about friendship and fairy secrets!
A Perfect Christmas
Barbie is all about fashion and fun with her sisters! Grab glamourous gifts for this fab movie star!
Filmography
Story
Barbie and the Rockers
She is the lead singer of her band,
Barbie and the Rockers
-- which changed its name to Barbie and the Sensations after their outer space concert -- and plans what events they are going to do.
In Barbie and the Rockers: Out of this World, she decided that, after her world tour, and because the band had been successful, they should perform in outer space (because it had never been done before).
Nutcracker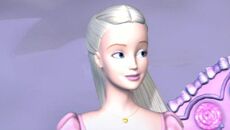 Barbie appears at the beginning and end of the film. Her younger sister Kelly feels nervous about performing a ballet dance on stage because she cannot master the steps. To give Kelly a confidence boost, Barbie told Kelly the story of a girl named Clara. Clara was a courageous girl, and hearing Barbie's story let Kelly to believe she could be brave on stage. Kelly succeeds in doing her ballet steps correctly in the end and gives Barbie a hug.
Rapunzel
As Barbie paints a landscape of a serene beach, Kelly is unsure of what she should paint. Kelly expresses her worries of being unable to think of any good ideas, but Barbie tells Kelly that her ideas are wonderful. Kelly asks Barbie to tell her what to paint, so Barbie encourages her to use her imagination. Still unconfident about her painting abilities and her own ideas, Barbie tells Kelly and intriguing and inspiring story about Rapunzel, whose magic paintbrush and imagination changed her life.
Kelly is amazed by the story, and wishes she could have a magic paintbrush. Barbie says to Kelly that she does, whilst handing her her own paintbrush. After Barbie tells Kelly that the magic of painting comes from her heart, Kelly becomes excited and tells Barbie what she has learned from Rapunzel: That her secret to her paintings was to paint what she dreamed. Barbie smiles as Kelly runs to a canvas and begins to paint with little hesitation.
Kelly Dream Club
In Sparkle Fairy Surprise, Barbie promised to get Kelly a lemonade stand, and brings it to her one day when Kelly is playing with her friends. They cannot agree on how to decorate the stand, so Kelly asks for Barbie's opinion. Barbie encourages them to decide themselves because it is their stand. She has to leave, but comes back later with Tommy.
Swan Lake
Barbie and Kelly were at Kelly's first sleepaway camp. At night, Barbie went into Kelly's cabin with a lantern to check on the campers. She noticed that Kelly's bed was empty, and spotted Kelly sitting on the backdoor steps, alone. She went outside and asked Kelly what was wrong, and Kelly said she couldn't sleep because the bed was bumpy. Barbie said that it takes time to get  adjust to being at camp. Barbie reminded Kelly that she had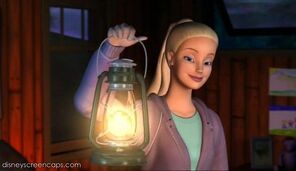 been looking forward to the race day that would take place the following day, where Kelly was part of a running team, but Kelly said somebody else could run in her place and that she wanted to go home. Barbie noticed the constellation Cygnus, and pointed it out to Kelly. The constellation inspired Barbie to tell Kelly about Odette, a girl who turned into a swan. After the uplifting story, Kelly was happier, but tired. Before she went to bed, she asked Barbie if she would watch her race the next day, and Barbie said she wouldn't miss it.
The Barbie Diaries
At the beginning of the new school year, Barbie makes a wish for everything in her life
to change: She wants to get noticed, and stop blending into the background; go out with Todd, her crush, and also the best looking and most popular guy in her school; and be a school news anchor. Barbie's sophomore year becomes very busy, as Charmz is going to perform at the school prom, the Fall Formal. Also, she receives a diary and charm bracelet set that makes her wishes come true, secret admirer notes from her friend Kevin, and she starts working at the school TV channel. By the end of the school year, Barbie realizes she has learned a lot about herself all thanks to her secret diary and bracelet.
Diamond Castle
She appears at the beginning and the end of the film with her best friend Teresa.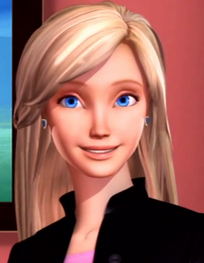 When Stacie is having friendship troubles, she and Teresa tell her a story about friendship that makes Stacie want to forgive her friend.
Christmas Carol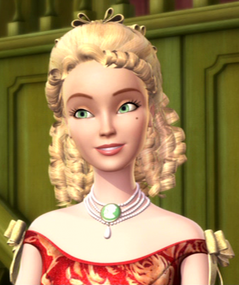 Barbie is running late for a charity Christmas ball on Christmas Eve, as she can't find her younger sister Kelly. The ball is to raise money for a hospital, and all of their friends and family are going to be attending. However, Kelly tells Barbie it doesn't feel like Christmas because they're going out instead of doing their usual activities. These include making cookies, drinking cocoa, singing carols, and opening special presents.
Kelly is stubborn and doesn't want to leave until the do what they usually do, but Barbie decides they can be late after all when Kelly says she hates Christmas. Barbie hands Kelly her snow globe, which Kelly is normally not allowed to touch, but she can now as a special occasion. Barbie tells Kelly the story behind the snow globe: the story of Eden Starling, a girl who discovered the beauty of Christmas.
When the story is finished, Kelly begins to question it, wondering if Eden passed the snow globe down to them through her children, and if the story is true. Barbie leaves it a mystery but lets Kelly keep the snow globe, so she can remember how beautiful Christmas is. Barbie's friend Nikki comes to find her and Kelly, and Kelly is finally ready to go. Kelly leaves the snow globe on a shelf while Nikki says the party is very fun, and Barbie encourages a suggestion Kelly makes to donate some of Kelly's allowances.
Thumbelina
Barbie is a teacher encouraging students to keep the environment clean. Barbie and her class of eight young children went to a reserve park to plant trees. Barbie wanted the children to plant trees so they could help to keep the environment clean, which would make people happy in the future. One of her students, Emma, wanted to plant a very small tree. Two of Emma's classmates criticized the tree, which hurt Emma's feelings, but Barbie told Emma that the tree she had chosen was beautiful.
The reason the children had not thought the tree was worth planting was because it was small, but Barbie told them that even the smallest tree could make a big difference. Barbie told her students to sit down so she could tell them about a tiny–but brave–girl named Thumbelina who achieved great things regardless of her size.
Barbie's story ended with one of the characters, Makena, creating a nature reserve park to protect Thumbelina and her small species, the Twillerbees. The children wondered if the reserve park they were in was Makena's, and Barbie allowed them to look around for the Twillerbees. Emma asked Barbie if Thumbelina really existed, but Barbie left it up to Emma to decide. When Emma had gone, Barbie waved to Thumbelina and her friends in a tree, and they used their magic to make Emma's tree grow huge.
A Fashion Fairytale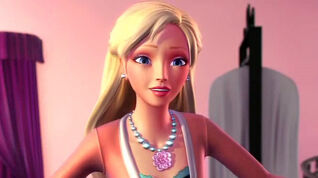 Barbie was supposed to play the princess in "The Princess and the Pea," but Barbie upsets
Todd
, the movie director, as she doesn't like the idea of zombie peas and Todd dislikes Barbie expressing her opinion so he fires her. She sees people gossiping about her online, and her boyfriend
Ken
appears breaks up with her over the phone. Barbie's friends
Teresa
and
Grace
encourage Barbie to go on holiday to cheer up, so Barbie plans to spend the last weeks of summer vacation with her Aunt
Millicent
, a fashion designer who is based in Paris, France. Barbie flies to Paris with her dog
Sequin
, and Teresa and Grace find out the next day that Ken breaking up with Barbie was a prank done by Raquelle. Ken decides to go after Barbie so they can reunite.
In Paris, Barbie meets Marie-Alecia, or Alice, Aunt Millicent's assistant. Aunt Millicent tells Barbie that she is closing Millicent's due to people being disrespectful about her work, so Barbie and Alice go to pack in the studio. Alice explains that Hotdogeteria, the people who Aunt Millicent sold her building to, are going to convert Millicent's into a hot dog place later that week. Barbie says that Millicent's feels magical, which prompts Alice to show Barbie the Glitterizer, an ancient wardrobe with flairies, magical creatures, inside of it.
Alice and Barbie summon the flairies by putting a dress Alice designed into the Glitterizer and then reciting a chant. Barbie looks in the Glitterizer and sees Alice's dress, which the flairies made shimmer, glimmer and shine because it inspired them. The flairies reveal that if Hotdogeteria takes over Millicent's, they will lose their powers. Aunt Millicent explains to everyone that to get enough money to leave Hotdogeteria's contract, she would have to design and sell a new fashion line. However, she believed that she didn't have enough time or fans for that plan to work.
A woman buys Alice's dress, which inspires everyone. They plan to have Alice design a fashion line with enhancements by the flairies, and then have a fashion show for publicity. The next day, Barbie sees Sequin wearing an outfit that Aunt Millicent's dog Jacques designed, so she decides to include pet fashions in the show. Aunt Millicent helps Alice with the fashion line and Jacqueline, a fashion designer who has a fashion house opposite Millicent's, sees the flairies and captures them. She uses them to enhance her designs, even though they are not inspired and thus don't know what the magic will do. They are later rescued by the pets.
The following day, the only person who comes to Millicent's fashion show at first is the Hotdogeteria guy because Jacqueline held her own fashion show to draw attention away from Aunt Millicent. However, because Jacqueline's designs hadn't inspired the flairies, the enhancements backfire and make the clothes smell like trash. The audience, including Lilliana Roxelle, the most famous fashion critic in Paris, leave Jacqueline's show and go to Aunt Millicent's instead. Barbie was the catwalk model for the show.
For the final dress Barbie showcased, the flairies use their powers to their full potential and completely transform it. Ken goes onto the stage and reunites with Barbie after taking days to reach her in Paris. Barbie considers it the most romantic thing she could imagine. Ken explains that he cares about Barbie not her career. Barbie and Ken say that the love each other. They kiss, and the flairies give Ken a suit to wear that compliments Barbie's dress. The show is a great success and a woman places an order for 10,000 pieces from Alice and Aunt Millicent's line, so Millicent's and the flairies' powers are safe. Jacqueline sees the error of her design-stealing ways, and vows to make a change. Millicent suggests they could work together some time.
Lilliana Roxelle invites Barbie, Alice, Aunt Millicent and Ken to come to a Black, White and Pink party she is having that night, so the flairies give them carriages to travel in. As she goes to the party, Todd's assistant Spencer finds Barbie and offers her a job as a director, which she says she will consider. Barbie and Ken dance together at the party and they kiss again.
A Fairy Secret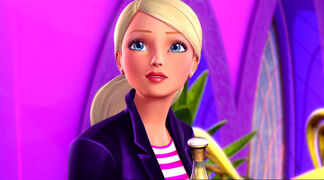 Barbie goes to the premiere of her latest movie with
Carrie
and
Taylor
, her stylists. She is unaware that Carrie and Taylor are fairies. Raquelle, jealous of the attention Barbie gets, purposely rips Barbie's dress, so Carrie and Taylor use magic to repair it.
Crystal
, another fairy, takes photos of Barbie and Ken, and she shows them to
Princess Graciella
, the Fairy Princess of the secret fairy city
Gloss Angeles
. Crystal gives Graciella a love potion, so the princess falls in love with Ken and wants to marry him.
The next day, Barbie confronts Raquelle about ripping her dress. While they argue, Crystal, Princess Graciella and her assistants kidnap Ken and take him to Gloss Angeles. Barbie and Raquelle find out that Carrie and Taylor are fairies, and they decide to work together to save Ken. They use a Fairy Flyway to go to Paris and see Lilliana Roxelle, who is also a fairy. She gives Barbie an antidote for the potion and then Barbie, Raquelle, Carrie and Taylor go to Gloss Angeles.
Carrie and Taylor take Barbie and Raquelle to Wings and Things to get fake wings. Barbie finds it easy to use the wings, but Raquelle struggles. They later find pegaponies, which allow the girls to ride on them. The pegaponies stop when they get to swirlnadoes, strong wind currents used to protect the palace. Barbie encourages Raquelle to lead them past the swirlnadoes due to Raquelle being the best at a horse-riding camp they went to the summer after 10th grade, and then they use disguises to get past the palace guards.
Barbie and the girls are exposed in the palace and are sent to the dungeon. Barbie and Raquelle are put into a Fury Sphere, which is supposedly escape proof. While they are stuck together, they tell each other that the reason they had a hostile relationship is because Raquelle thought Barbie was uninterested in her, and Barbie had felt the same way. They become friends after they realise their dislike of each other was based on misunderstandings, and there is a transformation; the cage of the Fury Sphere disappears and Barbie and Raquelle get real wings.
Barbie and Raquelle stop Ken and Graciella getting married by halting the wedding and giving Graciella the love potion antidote. To make sure Barbie and Raquelle do not tell anyone about Gloss Angeles, they are made to believe that their adventure in Gloss Angeles was only a dream. The next day, Barbie and Ken meet up at Wally's and find it strange that they had the same "dream". Raquelle sits with them and is nicer to Barbie than usual, and Carrie and Taylor go back to Gloss Angeles.
A Camping We Will Go
Barbie and her sisters go camping with their dog Taffy. They all plan to have fun but the day doesn't go well.
A Perfect Christmas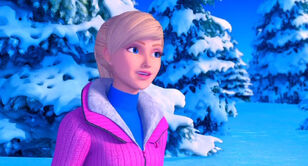 Barbie and her sisters plan to go to Manhattan for Christmas and see Aunt Millicent. However, the plane they catch is forced to make an unscheduled landing in Rochester, Minnesota. Barbie promises her sisters that they will get to New York, and is so determined that she attempts to drive them there, prompting the adventures for the remainder of the film.
Pony Tale
Barbie, Skipper, Stacie, and Chelsea drive to their Aunt Marlene's
Alpine Academy
in the Swiss Alps for a month long horseback riding vacation. They are greeted by their cousins, Max and Marie, who present the sisters with a room. Barbie feels that her winning the Pacific Steeplechase, an event in the
Inter-Academy Equestrian Tournament
, will depend on her finding the right horse for her. She meets
Etienne Cheynet
, the riding master, and then gets to choose her own horse from the thoroughbreds in the stable. 
The next day, Barbie goes riding with everyone and sees a horse, but it disappears. She sees the same horse in the academy logo and notices its unusual markings. Barbie finds Etienne singing to a horse to calm it. Etienne explains that the horses Barbie has seen are from a fable about an ancient herd called the Majestique, and that there is no proof they are real. 
Barbie goes riding by herself and some wolves scare away her horse, Finian. She is saved from the wolves by the Majestique horse she had seen the day before, and it runs away. The following day, Barbie and Finian went riding again and found the Majestique horse with its leg stuck under a rock. To relax the horse, Barbie sings the song she heard Etienne singing and manages to move the rock. She uses her scarf as a bandage to tie around the horse's bleeding leg and she names her Majesty. 
Barbie goes out alone and is able to ride Majesty, which Philippe witnesses. Majesty shows Barbie a herd of breed in the Valley of the Majestiques. Meanwhile, Marlene tells Skipper that she may have to sell the academy to Bridgette Cheynet, the mother of Etienne and Philippe and the owner of École Montagne, if they don't win the tournament. Skipper finds Barbie with the Majestiques and encourages her big sister to run for Alpine in the tournament instead of Etienne, but Barbie is reluctant to run in the steeplechase on Majesty in case Philippe finds the Majestiques and hurts them.
Barbie leads everyone to the Majestiques and they find the other horses. She tells Skipper and Jonas to keep them a secret and they start going back to the academy with the horses. The only way to save the academy and the Majestiques would be to win the tournament, so Barbie competes instead of Etienne.
Barbie enters the tournament just in time and rides for Alpine on Majesty. Philippe makes the saddle come off of Majesty, so Barbie and Majesty race without it and manage to win. The overall Tournament Cup goes to Alpine Academy. Bridgette congratulates Barbie and Barbie gets a photo of herself and her family with Majesty and the trophy.  Barbie wants to take Majesty home with her, but sets her free to be with her herd because she loves her. Aunt Marlene tells Barbie that if she comes back Majesty will return.
Great Puppy Adventure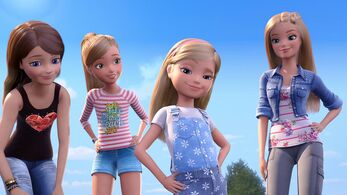 Barbie and her sisters went to stay in Willows for a fortnight because they were starting summer vacation. Barbie drove them there in their pink camper. Being the youngest, Chelsea didn't remember Willows, but Barbie remembered it well. She looked forward to spending time with Grandma Roberts, who they were staying with, and going to Willow fest with her childhood friend Christie.
Grandma said that the treasure was buried by the town's founders for a time of need so that Willows would always prosper. Barbie's sisters wanted to go on a treasure hunt, but Barbie wanted to spend time with Christie. Skipper took photos of the map on her tablet, and they began searching for the treasure the next day.
Barbie met Christie at Willowfest. They wanted to go on their old favorite ride, the Storminator, but it was shut down. Joe and Marty heard Skipper, Stacie and Chelsea talking about treasure, and decided to follow them so they could find the treasure and have it for themselves.
Barbie found out that Christie had to move away because her parents couldn't afford to live in Willows anymore. She told Grandma over dinner that there weren't as many rides at Willowfest as she remembered, and Grandma responded that Willowfest had gotten small over the years. 
The next day, Barbie went out with Taffy to relive good memories. The younger sisters and their puppies went to solve the latest riddle and figured out that the answer was Lake Willows. From the ferris wheel at Willowfest, Joe and Marty noticed the girls at the lake and decided to follow them so they could begin finding the treasure for themselves.
Barbie noticed that almost everything in Willows was closed or needed repairs. The next day, she joined the treasure hunt. Skipper's tablet was gone, but they still had the original map and the willow tree charm on Stacie's necklace.  There were song lyrics on the map. Barbie read the second verse: "Meet me there at three. By the shady willow tree." 
The sisters celebrated at Willow fest, and when they were ready to go home, they took the puppies with them. Tiffany said she would visit whenever Grandma Roberts could. With their reward treasure, the girls created a new treasure hunt by hiding the treasure and making a new map to give the townspeople something to believe in.
Spy Squad
Barbie and her best friends Teresa and Renee transform from hard-working gymnasts to undercover secret agents in this exciting, action-packed adventure! When their amazing gymnastics skills catch the eye of a top-secret spy agency, the girls are soon following clues to a gem-stealing cat burglar who has escaped everyone on the case. With their high-tech gadgets, glam disguises and cute robo-pets, can they prove that smarts and teamwork can get the mission accomplished? It's girl power to the rescue."
Physical Appearance
Barbie has fair skin, blue eyes and long blonde hair. She is 175 cm tall in height.
Nutcracker
Barbie's ballet training outfit consists of a black leotard with cap sleeves and a v-neck neckline; a short, light pink tutu; light pink tights; and ballet shoes that allow her to go en pointe (which means "on the tips of the toes"). Barbie's make up is pink eye shadow, and pink lipstick. She wears her hair twisted into a bun.
Rapunzel
Her outfit consists of a pink top, with a denim jacket worn over it with rolled up sleeves. She wears denim pants and beige shoes. Barbie is a creative person, as shown by her story telling and painting. She is warm and friendly, and she comforts Kelly and teaches her positive lessons, such as believing in herself.
Kelly Dream Club
In Sparkle Fairy Surprise, she wears a sleeveless light pink shirt with a flower brooch, and denim jeans. She wears this with pink and white shoes.
Swan Lake
Barbie has a long ponytail, and she wears a purple hooded jacket with a blue top underneath, jeans, and brown shoes.
Christmas Carol
Her hair is styled in a side ponytail. To the charity Christmas ball, she wears a shimmering, white satin and silvery gown that has layers of chiffon fabric with a large sash tied into a large bow on the side. She wears a sheer, transparent panel of snowflake-decorated fabric over the bodice that makes up the sleeves and back. As accessories, she has sparkly jewellery, and a small white bag. She also had festive red lipstick on. Barbie strongly resembles Eden Starling, and Kelly resembles Barbie. The 2008 Barbie Holiday doll is based on Barbie's appearance in this movie.
Thumbelina
She has a long blonde ponytail, which is the same hairstyle as Stacie in Barbie & The Diamond Castle. Barbie wore a purple top with a butterfly pattern on it, a dark blue skirt, and a pair of black boots. She is a kind and patient teacher, who is more than happy to stop lessons for stories. She is supportive of her students and tries to give them confidence, such as when she told Emma her tree was beautiful even though it was small.
A Fashion Fairytale
For her role as the princess in a movie adaptation of The Princess and the Pea, Barbie has the same gown, crown and hairstyle as Alexa from Barbie & The Diamond Castle, but the dress and crown are pink.
After getting fired, Barbie wears a black t-shirt with mesh sleeves, navy blue pants, and pink boots. Her jewellery is sparkly, and she wears a yellow raincoat over her outfit when she gets to Paris. The next day, she wears an outfit designed by Marie-Alecia: a peach jacket with long sleeves, a tank top, a blue skirt with frills, and high heels with white socks. Her necklace is blue with a pink flower, and her earrings match.
At the fashion show, her first dress is short and pink. It has pink mesh on the chest, a frilly skirt, and a shiny black belt. She wears it with pink high heels, earrings, necklace, bracelet and hairband. She has Viveca's hairstyle from Barbie and The Three Musketeers. In a sketch during the opening of the film, she wears this outfit with her hair down and curly. The second pink dress is longer and sparkly, with a floral design on the chest. The skirt has frills, and her shoes are purple heels. She wears a purple scarf around her neck, and her hair is like her friend Grace's, but style oppositely to her's.
The third dress was a long gown with a v-shaped neckline. The middle part of the dress knee-length frills, and the bottom is shiny. The dress is pink and lavender, and she wears a necklace with matching earrings and bracelet. Her hair is in a ponytail. The final dress is designed by Marie-Alecia and Millicent. It is a strapless pink gown that the flairies transform into a couture dress.
A Fairy Secret
At her movie premiere, Barbie wears a purple and pink dress with silver shoes, and heart shaped earrings. For most of the film, Barbie wears a purple jacket, a red and white tank top, a short denim skirt, and pink boots with silver earrings. She puts on fake wings while in Gloss Angeles. She gets transformed into a real fairy with swirly rainbow wings, and she gets pink highlights in her hair. She wears pink, strappy shoes with wings on the heel, and a pink and blue dress.
A Camping We Will Go
Barbie wears a white and gray sweater, pink pants and gray boots to go camping. Her hair is in a ponytail.
A Perfect Christmas
Barbie wears the same outfit she wore in A Camping We Will Go, but her sweater is pink and her pants are blue. Her boots are black. When she gets to the inn, she wears a pink tunic and pink leggings with white socks to bed. Her outdoor outfit is a blue sweater, pink jacket with a black belt, light pink pants, and black boots.
When she helps Skipper get ready for the show, she wears a blue sweater, dark blue pants, and brown boots. For the show, she wears a pink mermaid style dress with a green bow and silver earrings and necklace. Her shoes are pink heels, and her hair is down and wavy.
A Pony Tale
Barbie wears a light pink dress with a dark pink jacket, silver belt and black boots to the academy. Her hair is in a ponytail. To sleep, she wears a light pink tank top with white polka dots. Her pants are dark pink. She wears a pink horseriding jacket and helmet with black stripes to go riding, and a light pink t-shirt with silver ribbons, pink pants and black boots. For the party, she has a dark pink top and skirt, silver heels, and a silver necklace and belt. Her hair is down and wavy with a ponytail on the left side.
Vlogs
In her first three vlogs, Barbie's hair is worn down with her bands in a braid. In the first vlog, she wears a white vest with blue jeans. In the second vlog, Barbie wears a t-shirt that says "17" on it, that she added an owl patch to. Chelsea added a cupcake patch to it. Her hair is braied over one shoulder, and she has purple highlights. She shows the viewers photos of her with a variety of different hair looks: A blonde updo; wavy hair with a temporary dye job of pink ombre to blue; a red bob with full bangs; an intricate blonde ponytail hairdo that she needed help with her friends to accomplish; and brown waves.
In her third vlog and her People Magazine interview, Barbie wears a black and white striped t-shirt with blue jeans, and her hair is worn down with her bands in a braid. In the fourth vlog, Barbie wears a navy, red and white top with blue jeans. Her bangs are out, and her is in a braid over one shoulder.
Great Puppy Adventure
When arriving in Willows, Barbie wore a pale pink peplum top with a floral design consisting of pink roses with green leaves. She wore this with light blue jeans, and pink sandals. She wore her hair down, with a braid. The next day, Barbie wore a blue denim jacket with rolled up sleeves, a white top with pink stripes and roses, gray pants, and black boots. She also wore this when hiding the treasure. While using her bike and exploring the cave, she wore a pink cycling helmet with a light on it, and harnesses. While being rewarded for saving the town, Barbie wore her hair down with a white, sleeveless floral shirt, a sparkly pink layered skirt, and pink sandals. She was awarded a gold necklace. She wore a pink and white necklace.
Spy Squad
At the beginning of the movie Barbie wore casual wear in this her jeans are denim and her top is white with pink jacket and she wore this many times in the movie. Her hairstyle is in half pony tale and she wore pink heels . Her gymnastic outfit is dark pink with triangle designs and full sleeves. Her hairstyle is in bun. Then, while being a secret agent she wore a purple - pink lines spy dress and her hairstyle is in pony just like super sparkle from Barbie in Princess Power and she wore pink shoes. Afterwards when she and her friends attend the event , her dress is in dark pink in color which at the top it has straight neckline with sparkly designs and at the bottom the skirt has two layers, the first layer is transparent sparkly pink designs and the second layer is silky dark pink. Her hairstyle is in a half pony tale with small crown and she wore this with silver necklace and silver sandals. Barbie's final gymnastic out fit is different from old one it is in light pink in color with sparkly dark pink triangle designs over it and her hairstyle is in bun.
Personality
Barbie is kind, sweet, nice, loving, caring, supportive, wise and friendly. She is headstrong, brave - bold, energetic, calm and confident girl. She is also very smart, intelligent, talented and clever. Beside this she is joyful, playful and cheerful to her sisters and relatives.
Gallery
Quotes
The Barbie Diaries
"The next time someone tells you some juicy dish about someone else, note to self: So what?"
"There's no old Barbie or new Barbie. There's just me, and I'm gonna rock!"
"Oh! We gotta go"
"I wish I could anchor the school news channel"
Christmas Carol
Barbie - "Didn't you hear me calling you? We're late!"
Barbie - "The charity ball starts in like five minutes! All our friends and family are already there, come on!"
Barbie - "Small person not next to me... Kelly? Come on!"
Barbie - (laughs) "Wow, looks like someone's got the Christmas spirit."
Kelly - "This isn't Christmas."

Barbie - "Really? Because the calendar says December 24th - Christmas Eve - and pretty much everyone we know is at the charity Christmas ball, where we need to be."

Barbie - "Okay, I know you miss what we usually do, but, look what we get instead! We'll go to a big party, spend time with our friends and family, and support a really good cause. The ball will raise money for a hospital."
Barbie - "You know what? I think it's okay if we run a little late. I wanna show you something."
Barbie - "There's a story behind this snow globe. A story about the beauty of Christmas, and how one girl discovered it many, many years ago. It can remind you to keep the beauty of Christmas in your heart, every day of the year."
Barbie - "Merry Christmas, Kel."
Thumbelina
"I can't think of a better way to help the environment."
"All right everyone, pick a tree, and let's get started."
"I think Emma's tree is beautiful."
"Even the smallest tree can make a big difference."
"Have a seat everybody. I want to tell you a story–a story that starts in a place just like this: In a beautiful field, filled with plants and flowers."
"So, you see, Thumbelina and the twillerbees were small–even Makena was small compared to the grown ups all around her–but together, they made a huge difference.
"...And just like all of you, the trees you plant today will grow up to help clean the environment, and bring joy to people for years to come."
A Fashion Fairytale
"I know how hard it is to believe in yourself when it seems like the world is against you, but that's what you both done. You believed, and look at the results!"
"Grace, what if people booed at you when you ran onto the soccer field, or Teresa, what if people bit into your cupcakes and gagged? Will you still make them?"
"No, Teresa's right. If I have to get away, I should get "away", far away. Like Aunt Millicent's!"
"I'm fired?"
"I still can't believe I was fired. I've never been fired!"
"No my Aunt Milicent. She sent me these flowers. She is a desinger in Paris with her own Fashion House. Urgg I loved visting it when I was little. Tons of people and energy, and fabric and dresses and Aunt Mililcent right in the middle of it all. This world wind keeping everything together. I wanna be strong like her when I  grow up. I'm going to go visit Aunt Milicent. Now I can send the last weeks of summer vacations with her. I don't need Ken. I just need to book a flight. Wanna go to Paris girl?"( laugh).
A Fairy Secret
"What she did last night is so not okay, and I'm gonna call her on it!"
"I so get this now. We're being pranked!"
"No, it can't be. Is this Paris?"
"Lilliana Roxelle, the famous fashion editor? I know her!"
"I'm not dropping names, I'm just saying I know her. She came to a fashion show with my Aunt Millicent."
"We're flying. We're really flying!"
"I can't believe that Raquelle purposely ripped my dress!"
"Ken. Yeah, everything is ok. I feel like I just had the weirdest dream. You did too? Yeah, Wally's half hour."
"I can't remember of the details. It's lie it's almost there but I can't grab it."
"You did it Raquelle! That was amazing."
A Perfect Christmas
"I will keep wishing, 'cause wishes come true."
"Star light, star bright, first star I see tonight."
"That's incredible!"
"This is going to be the best Christmas ever!"
"I promise we'll have a perfect Christmas!"
"Merry Christmas!"
Pony Tale
"I feel I have seen that horse somewhere."
"Promise you won't! Pinky pledge"
"You can't stop us. C'mon Majesty.  Born free. Ride free."
​Songs
Songs Barbie sang or took part in
Trivia
External Links
Ad blocker interference detected!
Wikia is a free-to-use site that makes money from advertising. We have a modified experience for viewers using ad blockers

Wikia is not accessible if you've made further modifications. Remove the custom ad blocker rule(s) and the page will load as expected.