"Believe"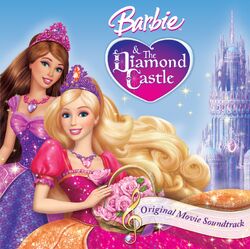 Barbie & The Diamond Castle
"Believe" is a song from Barbie & The Diamond Castle. It is sung by April Rose and is featured on the soundtrack.
The movie version of the song is sung by Princess Liana and Princess Alexa to make the castle appear, and Melody sings it to them at the beginning of the film. It is not on the soundtrack.
Lyrics (Soundtrack Version)
Hidden beneath the ground
Is the spring that feeds the creek
Invisible as the wind
That you feel upon your cheek

And every breeze that whispers
Reminds us constantly
Sometimes what's real
Is something you can't see

CHORUS I
Believe in all that can be
A miracle starts whenever you dream
Believe and sing from your heart
You'll see, your song will hold the key

Waiting behind the clouds
Is the sky that's always clear
And chasing away the doubts
You watch the sun appear

It's shining to remind you
As each new day begins
There's always hope if you
Just let it in

CHORUS I

You can paint the stars
You can touch the sky
Spread your wings and discover
You can fly
You won't know until you try

CHORUS I
CHORUS II
Believe and dream what can be
Ask with your heart and you will receive
Believe, the beauty is yours to see
Your song will hold the key

Believe
Believe
When you believe
Believe
Videos
Ad blocker interference detected!
Wikia is a free-to-use site that makes money from advertising. We have a modified experience for viewers using ad blockers

Wikia is not accessible if you've made further modifications. Remove the custom ad blocker rule(s) and the page will load as expected.