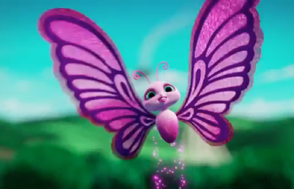 The
Magical Butterfly
is a character in
Barbie in Princess Power
.
Story
During the movie, Baron von Ravendale tries to take over the kingdom as his frog partner Bruce spoils his potion by catching a mosquito, some of the poitions are falling into the sewer where a harmless caterpillar tries to go the exit world to transform into a butterfly. It begins to shining while on it's way out. Has it arrivies outside it's hang under the branch of a tree. Soon the caterpillar transformed into a beautiful butterfly.
By picking Princess Kara, her cousin Princess Corinne, Makalya, Madison, Zoey and Gabby are having tea, as the Magical Butterfly flies to Princess Corinne, but she though it away from her because she hates every kind of insects even lady bugs, but Princess Kara said that she shouldn't do this to a harmless butterfly. The butterly kisses her on her cheek in sight of gratitude. Soon Princess Kara gets weird and she realized that she had some princess power and her friends are testing her with super stengh, power to fly etc. Even they made her a super uniform so she can go to saving people, catching crimials etc. and her itentity is Super Sparkle.
But it is reveal that Princess Corinne discovers her identity and gets jealous and she begins to seek the magical butterfly to become a superhero too. The butterfly also made Parker and Newton have super powers.
Gallery
Ad blocker interference detected!
Wikia is a free-to-use site that makes money from advertising. We have a modified experience for viewers using ad blockers

Wikia is not accessible if you've made further modifications. Remove the custom ad blocker rule(s) and the page will load as expected.