Carlita is a character in Barbie of Swan Lake. She is a spunky and sassy elf who lives in the Enchanted Forest, and she is voiced by Nicole Oliver. Carlita is played by Maria.
Story
Carlita lives in the Enchanted Forest with the other animals and the Enchantress. At night, Carlita transforms into a girl, but during the day she's a skunk.
Physical Appearance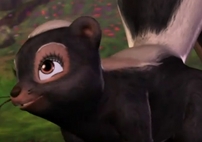 During the day, Carlita is a small skunk with big brown eyes.
At night, Carlita is a young Spanish girl with dark brown hair, fair skin, and brown eyes. She wears a dress with a black and white tutu, red shoes, red belt, and headband. During the spell, Carlita grew a skunk tail as a human. After the spell is broken the skunk tail disappears.
Personality
Carlita is a very sassy girl who will spray anyone who threatens her friends. She is very brave and outstanding from all of the other elves. She is a good dancer. Carlita is also good friends with the porcupine, Ivan.
Gallery
Ad blocker interference detected!
Wikia is a free-to-use site that makes money from advertising. We have a modified experience for viewers using ad blockers

Wikia is not accessible if you've made further modifications. Remove the custom ad blocker rule(s) and the page will load as expected.