The Changing of the Tides ceremony is a traditional event shown in Barbie in A Mermaid Tale 2. It takes place in the city of Aquellia.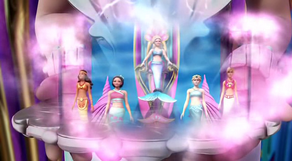 Procedure
Every 20 years a member of the royal family must return to Aquellia and sit atop the ancient throne. When they speak the ancient rite, they gain the power to make Merillia, the life force of the ocean.
The Ancient Rite
"With the Changing of the Tides,
Merillia power will arise.
The royal mermaid on the throne,
Her fullest mer-self now is known."

Ad blocker interference detected!
Wikia is a free-to-use site that makes money from advertising. We have a modified experience for viewers using ad blockers

Wikia is not accessible if you've made further modifications. Remove the custom ad blocker rule(s) and the page will load as expected.