"
Chelsea loves to perform and play dress-up. These girly gifts will make her dance with joy!
"
Chelsea Roberts is one of the main characters in Barbie: A Camping We Will Go, Barbie: A Perfect Christmas, Barbie & Her Sisters in A Pony Tale, and Barbie & Her Sisters in the Great Puppy Adventure. She is Barbie's youngest sister.  
Story
A Camping We Will Go
Chelsea and her sisters, as well as Taffy, arrive in the woods in their camper. Chelsea wants to eat hotdogs and smores, but her sisters all have different ideas. They bicker about what to do until Chelsea and Stacie put up the tent. Afterwards, they all go with Stacie's idea, biking. Chelsea and her sisters run into some skunks, causing Taffy to charge and, unfortunately, get sprayed. After they give Taffy a bath in tomato juice, it starts to rain heavily.
Chelsea and her sisters were sad at first, but cheered up after they ate s'mores. Skipper suggested playing music on her guitar, but when she started to play, Chelsea and Stacie notice that Taffy is outside in the rain and in danger. Skipper promptly saves Taffy with a fishing pole, and they all cheer. Barbie thought that Chelsea, Stacie and Skipper might want to leave after not getting to do what they wanted. Chelsea and her sisters all told Barbie that they had fun, and when it stopped raining, they all slept under the stars.
Barbie: A Perfect Christmas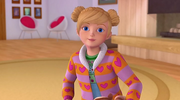 Chelsea and her sisters go to New York to celebrate Christmas with their Aunt Millicent. Chelsea also wants to feed the Sea Lions at Central Park Zoo. Everything is fine until they must to land in Rochester, Minnesota because of a terrible snowstorm.The sisters have no choice but to try to get to Minneapolis in a car. They stop at the Tannenbaum Inn and stay there for one night, hoping they can get a flight to New York in the morning.
The next morning, Skipper tells her sisters that their flight to New York is cancelled because of excessive snow. The sisters are disappointed, but there's nothing they can do. Later, the sisters go outside to play with the dogs and have fun together. Later on, Chelsea finds a barn filled with presents. She says it's Santa's presents but Skipper says that maybe it was Christie's.
While on the way back, the sisters find a band without a singer in an old garage. Barbie gets an idea to have a Christmas Eve concert at the inn with Brian's band and Skipper performing together. The shows were being prepared, and Stacie and Chelsea debated about the animal show. Chelsea asks Skipper what her opinion is, and Skipper yells at Chelsea because she is stressed out. Heartbroken, Chelsea leaves. When the sisters realize that Chelsea is gone, they go searching for her, while the stage is still ruined from the squirrel chase.
The sisters follow Rudy's sleigh's tracks trying to find Chelsea, but the trail soon disappears because of fresh snow. Barbie remembers that Chelsea doesn't know much the area except for the barn. They find Chelsea sleeping in the barn and Chelsea explains why she left. Skipper and Stacie apologize to Chelsea and the sisters hug. When the sisters leave, Stacie notices a light inside the barn and tells her sisters to come see. The presents are all gone, and the room has been changed into a stage for the show.
Stacie and Chelsea do their animal act, and Skipper and Brian's band perform the "Perfect Christmas" song. Skipper invites her sisters to sing with her on stage. The show is successful, and Millicent arrives to celebrate Christmas with the sisters. Later, everyone go outside to see the large Christmas tree. Everyone sings "Deck The Halls" and stands around the Christmas tree. The sisters learn that the perfect Christmas is being with the people you love.
Barbie & Her Sisters in A Pony Tale
Chelsea and her sisters spend the summer in the Alps of Switzerland. They visit their Aunt Marlene at the Alpine Riding Academy. Chelsea hopes to ride a big horse, but none of them choose her. At last, she is chosen by a pony named Dash. She is disappointed because got a small horse, and Barbie tells her that she can ride a big horse when she is a little bigger.
Marlene finds Chelsea hiding hiding from Dash behind some haybales. Marlene learns that Chelsea is annoyed with Dash because she keeps following her. Marlene sniffs Chelsea's hair, and asks her about the scent. Chelsea replies that it's her favorite shampoo, marshmallow. Marlene explains that Dash likes marshmallows too, as well as bows, glitter, and anything pink. Chelsea decides to give Dash another try, and thinks of a lot of fun things she can do with her.
In the competition, Chelsea decorates Dash with lots of colorful bows and pink glitter, and they win the pretty pony competition. When the sisters are getting reafy to return home, Chelsea promises to send Dash her favorite marshmallow shampoo, and apologizes for not liking Dash at first.
Barbie: Spy Squad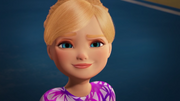 Chelsea is a junior gymnast alongside with her older sister Barbie.
Personality
Chelsea was very excited to be camping and said that she loved it. She is a little kid. She argues with Stacie a few times and they aren't good at sorting out their disagreements without some help. Chelsea enjoys singing, dancing, dressing up and acting. Chelsea looks up to Stacie and she wants to be just like Barbie. Chelsea is girly and feminine. Like Barbie, Chelsea's favorite color is Pink.
Physical Appearance
Chelsea has light skin, blonde hair and blue eyes. She is 5-7 years old. A Barbie magazine gives her height as 3'6". Chelsea's favorite color is Pink.
Camping We Will Go
Chelsea wore a colorful t-shirt, a pink and brown jacket with blue hearts, jeans and pink shoes.
Perfect Christmas
While traveling, Chelsea wore a blue and green t-shirt, a pink and orange jacket with pink hearts, light pink trousers, and orange shoes. The jacket is similiar with her jacket in A Camping We Will Go, just with different colors. Her hair is in two buns. In the night, Chelsea wore long blue pyjama with snowflake printed on it. She also wearings pink slippers. While outdoors, she wore a pink jacket, light pink trousers, light blue boots, and white gloves. When Chelsea and her sisters singing at Tannenbaum Inn, her top was green and patterned with some yellow and pink on it. Her top and skirt were separated by a pink ribbon. Her skirt had colorful polkadots printed on it. She also wears light blue shoes. Her hair had two ponytalis with pink bandana with one star on the left side.
Pony Tale
Her hair had a middle parting and was in two wavy pigtails with blue hairbands. She was wearing a white vest with flowers and hearts on it, and a yellow cropped cardigan. She had a pink bracelet on, and light pink capri pans. Her shoes were dark pink with a buckle, and light pink flowers were on them. To sleep, Chelsea wore a yellow and light pink t-shirt, a 3/4 length light pink pants, and light pink slippers with rabbit ears on them.
While riding, Chelsea wears a white shirt with pink ribbons, light pink vest with pink stripes 3/4 length sleeves, white pants, and pink boots. Her helmet is pink with light pink stripes and yellow bow on the right side. During the party, she wears light pink dress with pink belt and yellow lace on the skirt. She also wears pink shoes with bows, a necklace, and pink roses on her hair.
Great Puppy Adventure
Chelsea's height goes up to Barbie's hips. When arriving in Willows, Chelsea wore a white sleeveless top that had a gray chihuahua on it. The chihuahua had pink sunglasses, collar and bow on. Chelsea wore this with a pink knee-length skirt, and glittery silver hi-top sneakers with plain white laces, soles and toe caps. Her hair was worn with a pink alice band. The next day, Chelsea wore a white t-shirt with light blue and gray overalls that had white flowers printed on them. Her shoes were gray and white hi-top sneakers. She also wore this when hiding the treasure. While using her bike and exploring the cave, she wore a pink cycling helmet with a light on it, and harnesses. While being rewarded for saving the town, Chelsea wore her hair in a bun with a lilac bow. She wore a lilac, sleeveless dress with purple sandals, and she was awarded a gold necklace. Her hairstyle was similar to that one she used in A Perfect Christmas.
Trivia
Chelsea was originally called Kelly. Kelly made her debut in 1995 and was retired in 2010. Chelsea replaced Kelly in 2011. Kelly is now featured in the "Barbie: I Can Be" toy line.
Chelsea loves dancing, singing, acting, playing dress up, horseback riding, marshmallows, drawing, glitter, and gymnastics.
Chelsea wants to be just like her sisters, especially Barbie and Stacie.
Chelsea doesn't always get along with Stacie, but she cares about her big sister.
Chelsea is afraid of bugs.
Gallery
Quotes
"We're here! We're here! We're really camping!"
"There's hot dogs to eat, and s'mores to eat and more s'mores to eat! I love camping!"
"Hello Mr. Squirrel! Hello Mr. Deer! Hello Mr. Skunk!"
"Maybe if we would have had lunch first like I wanted, then Taffy wouldn't have gotten stinkified!"
"Let's make s'more s'mores!"
"I hope Stacie can take us bike riding again tomorrow! That was awesome!"
"Isn't Dash pretty?"
"I just wanted to ride a big horse like you and Stacie and Barbie do."
Ad blocker interference detected!
Wikia is a free-to-use site that makes money from advertising. We have a modified experience for viewers using ad blockers

Wikia is not accessible if you've made further modifications. Remove the custom ad blocker rule(s) and the page will load as expected.