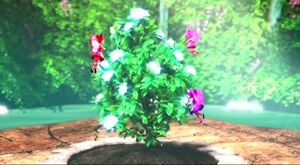 The Diamond Gardenia is a plant that appeared in Barbie: The Princess & The Popstar. It's a magical plant that keeps the Kingdom of Meribella alive and has diamonds inside its flowers. The plant is hidden in the Secret Garden, in King Frederic's palace and the Garden Fairies look after it.
When Tori shows Keira the garden, Crider, who is in the palace too in that moment, notices the diamonds in the inside of the gardenias and decides to uproot the plant with the help of his assistant Rupert.
Gallery
Ad blocker interference detected!
Wikia is a free-to-use site that makes money from advertising. We have a modified experience for viewers using ad blockers

Wikia is not accessible if you've made further modifications. Remove the custom ad blocker rule(s) and the page will load as expected.