Dillon Matthews is a character in Barbie in the Pink Shoes. He is the male lead at Madame Natasha's ballet company. Dillon is friends with Kristyn Farraday, who has a crush on him. Dillon is voiced by Brett Dier. Dillon enjoys watching Kristyn dance even if she doesn't follow the proper choreography.
Story
Dillon is a friend of Kristyn. They both seem to have a crush on each other. He has to dance the Prince Siegfried role with Tara Pennington who also likes him. In the end it is shown that he gets to dance the part of Prince Albrecht with Tara as Giselle in the dance company's upcoming show.
Personality
Dillon is a very good and protective friend, always cheering on his friends no matter what the situation. He enjoys how Kristyn dances her own way.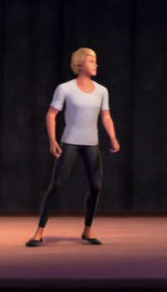 Physical Appearance
Dillon has blonde hair, light skin and blue eyes and a strong upper build. His training outfit is the same as every male dancer in the studio. A white t-shirt with black tights and black dancing shoes. His performance outfit is the same as Prince Siegfried's uniform, just without the red sash. It consists of A purple tunic with gold detail. Underneath the tunic is a white Renaissance shirt and he wears gray tights and black boots.
In the Christmas Special, he wears a similar outfit at the movie with the red band, but like a pink-candy lollipop with a purple belt. It matches with the dress of Kristyn's.
Quotes
"Since when are you the shush monster?"
"A simple 'break a leg' would have been nice."
"Mozaco Tacos in an hour?"
"I'll always believe in her!"
"May I have this dance?"
"Kristyn, please dance with us."
Ad blocker interference detected!
Wikia is a free-to-use site that makes money from advertising. We have a modified experience for viewers using ad blockers

Wikia is not accessible if you've made further modifications. Remove the custom ad blocker rule(s) and the page will load as expected.