Flutterfield is a small island kingdom ruled by Queen Marabella in the Mariposa films of the Fairytopia series. Flutterfield is protected by the Queen's glimmering magical lights, but when the Queen is in bad health, the special lights dim gradually. As a result, the butterfly fairies become victims of fairy-eating monsters called Skeezites who only fear lights. According to Elina, the skeezites presence cause Flutterfield to be completely cut off from Fairytopia.
Butterfly Fairies
The butterfly fairies living in Flutterfield love having parties. Once when Queen Marabella was poisoned, a 'Get Well Soon Queen Marabella Party' was thrown for the fairies to celebrate and hope that the queen gets well. The butterfly fairies are different from fairies of Fairytopia as the female butterfly fairies of Flutterfield have wings like butterflies.
The butterfly fairies are highly social and get together very well unlike Mariposa who thinks she doesn't fit in with the crowd. The fairies are very fashionable especially Rayla and Rayna, Mariposa's employers. When they want to get Prince Carlos' attention, they ask Mariposa to do things like polish their wings and perfume their hair. Rayla and Rayna own racks and racks of clothes but they take a lot of time to try them out and find the perfect one.
Flutterpixies
When the butterfly fairies need domestic help, they ring their bells and Flutterpixies come out to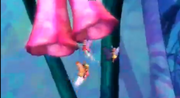 help them. Flutterpixies are small-sized fairies who are small but very helpful. They found the perfect dresses for
Rayla
and
Rayna
for the ball.
Fashion
The butterfly fairies are as fashionable as Rayla and Rayna. Rayla has pink hair and wears a deep pink dress while Rayna has blue hair and wears a sky blue dress. Mariposa has blonde hair tied into a bun behind her head except in the last scene of Barbie: Mariposa and her Butterfly Fairy Friends when she ties her hair into a ponytail. She wears a purple dress. When she gets the antidote of ilios, her wings start to transorm magically. It increases her wings bigger in size and makes them sparkle. Queen Marabella has blonde hair which she ties in a big bun on her head. She wears a long beautiful blue gown and has magnificent wings.
Gallery