The Gingerbread Village is a location in Barbie in the Nutcracker. It is one of the first places Clara and the Nutcracker visit upon their arrival in Parthenia.
Description
When they reach the village, the Nutcracker says that he "had no idea things had gotten this bad". He could be indicating that he thought the Mouse wasn't sadistic enough to attack an inhabited village or, possibly, that this village was too far away to be in any real danger. Either way, the Gingerbread Village is in a state of disrepair and its only remaining inhabitants are the Peppermint Girl, Gingerbread Boy and Marzipan.
The most obvious thing about the Gingerbread Village is the fact that, as its name suggests, the houses are made out of gingerbread and various other sweets. Unfortunately, this makes them highly edible and the Mouse King's army seem to have taken to using it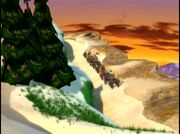 as a food source. They are seen shortly after the Nutcracker and Clara's arrival, towing a train of carts loaded with items from the village. It is possible they drove the people out solely for that purpose, since (according to the Peppermint Girl) the Mouse King's army are the reason the village is now uninhabited.
Ad blocker interference detected!
Wikia is a free-to-use site that makes money from advertising. We have a modified experience for viewers using ad blockers

Wikia is not accessible if you've made further modifications. Remove the custom ad blocker rule(s) and the page will load as expected.