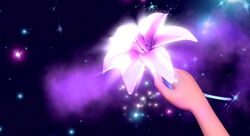 Ilios is a poison used in Barbie: Mariposa and her Butterfly Fairy Friends and mentioned in Barbie: Mariposa & the Fairy Princess. Many fairies thought Ilios did not exist, but Prince Carlos knew that Ilios is the only thing strong enough to make Queen Marabella ill. Henna, Queen Marabella's assistant, poisons the queen to assume her position as ruler of Flutterfield. Without an antidote, she'd have only two days before she died. Prince Carlos gives Mariposa the map to the Ilios antidote, a magical white flower. Mariposa managed to find it in the Cave of Reflection, located in the Bewilderness.
Ad blocker interference detected!
Wikia is a free-to-use site that makes money from advertising. We have a modified experience for viewers using ad blockers

Wikia is not accessible if you've made further modifications. Remove the custom ad blocker rule(s) and the page will load as expected.