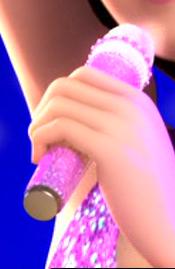 Keira's microphone
is an object in
Barbie: The Princess & The Popstar
. It has the power to change a person's outfit in seconds.
Story
Keira uses the microphone to perform quick outfit changes during her concerts. After she and Princess Tori realised they looked identical, they used the microphone and Tori's hairbrush to change their hair and outfits. When Crider and Rupert were trying to steal the Diamond Gardenia, Tori and Keira used the microphone and the hairbrush to stop Crider.
Physical Appearance
Keira's microphone is purple. It has a white top with some dark pink decorations. The bottom part is with purple fuchsia and sparkles
Outfits used throughout the Movie:
Trivia
Gallery
See Also
Ad blocker interference detected!
Wikia is a free-to-use site that makes money from advertising. We have a modified experience for viewers using ad blockers

Wikia is not accessible if you've made further modifications. Remove the custom ad blocker rule(s) and the page will load as expected.