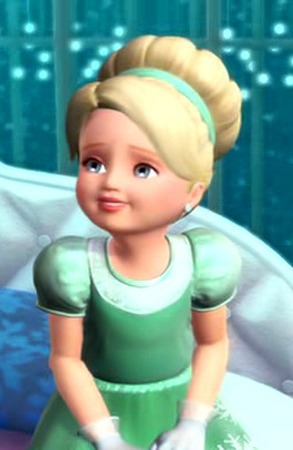 For the character from Barbie of Swan Lake, see Kelly (Swan Lake).
Kelly Roberts (known as Shelly Roberts in some countries) is a character in Barbie in the Nutcracker, Barbie as Rapunzel, Kelly Dream Club, Barbie of Swan Lake and Barbie in a Christmas Carol. She was the younger sister of Barbie Roberts and Stacie Roberts until 2010, when she was replaced by Chelsea Roberts. Kelly is voiced by Chantal Strand in every appearance except for Christmas Carol, where she is voiced by Amelia Henderson.
Story
Nutcracker
Kelly is little girl who is meant to perform the "Sugar Plum Fairy" dance in public. Her elder sister Barbie teaches her how to dance, but Kelly was unable to get the steps right. When she wanted to quit Barbie decided to tell Kelly a story about Clara. Afterwards, Kelly understood that she shouldn't give up, and that she should be brave. The sisters repeat the dance again, only this time Kelly can perform the dance perfectly.
Rapunzel
Kelly is shown as a beginner at painting who wants to be just like Barbie. She is ready to start to paint, but she doesn't know what she should paint. She asks her sister, but Barbie answers that Kelly must think herself. The little girl is upset, but Barbie tells to her Rapunzel's story.
In ending, Kelly says: "I understand Rapunzel's secret. She paints her dreams". Barbie is glad, and Kelly takes a paintbrush and starts to paint her random imagination with blue paint.
Kelly Dream Club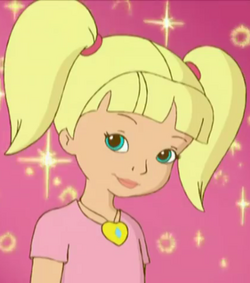 Kelly and her best friends,
Keeya
and
Chelsie
, are pretending to be fairies when Barbie brings them a lemonade stand. They cannot decide how to paint the stand, so they go back to playing. Keeya and Chelsie wish they could be real fairies, so the three friends use their
dream lockets
to transport themselves to the
Land of Sparkle Fairies
. They meet a sparkle fairy named
Ruby
, who tells them they can become sparkle fairies if they go to the
Garden of Jewels
.
When they get to the garden gate, it is locked because they must solve a riddle from the Stone Fairy tells them to solve a riddle. The trio have different views, like they did when it came to painting the lemonade stand. However, instead of settling with one answer, they use all three opinions. The Stone Fairy unlocks the garden. When they're in the garden, they pick a jewel that they like and it transforms them into sparkle fairies. They thank Ruby for giving them an enjoyable day, and they go back to Kelly's home to build their lemonade stand. They paint it using everyone's ideas, and Barbie and Tommy Carson are their first customers.
Swan Lake
Barbie and Kelly were at Kelly's first sleepaway camp. At night, Barbie went into Kelly's cabin with a lantern to check on the campers. She noticed that Kelly's bed was empty, and spotted Kelly sitting on the backdoor steps, alone. She went outside and asked Kelly what was wrong, and Kelly said she couldn't sleep because the bed was bumpy. Barbie said that it takes time to get adjust to being at camp. Barbie reminded Kelly that she had been looking forward to the race day that would take place the following day, where Kelly was part of a running team, but Kelly said somebody else could run in her place and that she wanted to go home. Barbie saw the constellation Cygnus, and pointed it out to Kelly. The constellation inspired Barbie to tell Kelly about Odette, a girl who turned into a swan. After the story, Kelly was happier, but tired. Before she went to bed, she asked Barbie if she would watch her race the next day, and Barbie said she wouldn't miss it.
Christmas Carol
Kelly didn't want to go to a Charity Christmas Ball, but Barbie convinced her to after telling her a story.
Physical Appearance
Nutcracker
Kelly is a young girl with light skin, blonde hair, and blue eyes. Her hair is tied back in a bun with short bangs. Her appearance resembles the young snow faerie and also the Peppermint Girl (Kelly's roles in the story). Kelly wears a pink ballet outfit with tights and pink slippers with little flowers.
Rapunzel
Kelly is a child who has blonde hair and blue eyes. Her hair is in ponytail, and her appearance resembles Katrina's, a character in Barbie's story. She wears pink t-shirt and denim overalls.
Kelly Dream Club
In Kelly Dream Club, Kelly has light skin, blue eyes and blond hair. She wears a magical locket on a pink string. The locket is shaped like a heart and has a diamond in it. Her hair is usually styled into full bangs and pigtails with dark pink hair bands. In the opening of the show, she is seen in multiple outfits: A light pink t-shirt, dark pink 3/4 length pants, and dark pink shoes; a sleeveless light pink shirt with dark pink stars, dark pink flared pants and light pink platforms; and a light pink leotard with dark pink accents, with dark pink shoes.
In Sparkle Fairy Surprise, as a sparkle fairy, Kelly wears a knee-length, light pink dress with a dark pink ribbon around the waist. Her shoes are dark pink Mary Jane shoes, and she wears them with light pink socks. When she becomes a sparkle fairy, she has tiara with a diamond in it, a ponytail with a pale blue hair band, and she wears a pale blue dress and shoes. She has translucent wings and a magic wand with a diamond at the end.
Swan Lake
Kelly's hair is in a ponytail, and she has full bangs. She wears a sleeveless jacket with a colorful top underneath, jeans, and sneakers.
Christmas Carol
Kelly has light blue eyes and blonde hair which are tied in a bun with a sea-green bun band. She wears sea-green gown with a belt on the bodice and also wears white gloves. She greatly resembles Princess Lacey from Barbie in The 12 Dancing Princesses and Princess Sofia from Barbie as the Island Princess, as both of the roles are played by Kelly, they also have the same hairdo.
Personality
Kelly is friendly, playful, helpful and excitable. She likes diamonds, and things that are shiny, sparkly and glittery.
Gallery
Quotes
Rapunzel
"Okay. Ready, Freddy!"
"Uh, Barbie? What am I supposed to paint?"
"I understand Rapunzel's secret. She paints her dreams."
Kelly Dream Club
(About the lemonade stand) "It needs to be shiny... sparkly... glittery! Hm... Barbie? What do you think will look best?" (Sparkle Fairy Surprise)
"I wanna be a diamond fairy!" (Sparkle Fairy Surprise)
"We can do it. Just tell us which way to go!" (Sparkle Fairy Surprise)
"Let's try it again. Together." (Sparkle Fairy Surprise)
(About the Stone Fairy's riddle) "I think the answer is diamonds. They're the sparkliest jewels." (Sparkle Fairy Surprise)
Barbie of Swan Lake
"I can't sleep. The bed's all bumpy!"
— talking about sleepaway camp.
"I'll never get used to it."
— talking about sleepaway camp.
"I just wanna go home."
— talking about sleepaway camp.
"I'm glad Odette didn't stay a swan forever."
Trivia
Kelly Dream Club dolls were released of Kelly as a Diamond Fairy and as a Princess.
In Barbie of Swan Lake, Kelly says that chocolate chip is her favorite type of cookie.
Ad blocker interference detected!
Wikia is a free-to-use site that makes money from advertising. We have a modified experience for viewers using ad blockers

Wikia is not accessible if you've made further modifications. Remove the custom ad blocker rule(s) and the page will load as expected.