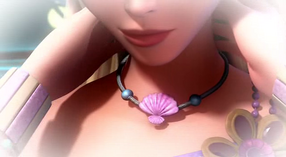 Merliah's necklace
is a magical necklace that appears in
Barbie in A Mermaid Tale
and
Barbie in A Mermaid Tale 2
. Merliah is given the necklace so that she can use it to fully become a mermaid whenever she wishes.
Story
Mermaid Tale
After Merliah was crowned as Princess of Oceana, she was happy but she become sad because she can't turn into human and back to Malibu again. Queen Calissa takes a shell from her crown and used the magic for make a new necklace, and she given to her. Merliah being happy again after Calissa said the necklace can use to transform into human or mermaid whenever she wants. Merliah return back to Malibu and used the necklace to being a human for the first time.
Mermaid Tale 2
Kylie was tricked by Alistair to steal the necklace, thinking it would help her to beat Merliah. When Kylie used it and became a mermaid, she was led to Eris' whirlpool. Kylie fell into the whirlpool so Eris was freed from it. Merliah came to Kylie's rescue and let Kylie keep the necklace so she could breathe underwater; They had decided they would stop Eris together.
After Merliah participated in the Changing of the Tides Ceremony, she could transfer any time she wished so she didn't needed the necklace anymore, her mother gave Kylie the necklace for helping them.
Trivia
In some scenes of Barbie in A Mermaid Tale 2's storybook, the design of necklace is different. The necklace has purple/violet pearls and a purple shell in the middle, instead in the movie the necklace has two blue pearls and pink shell in the middle.
Gallery
Ad blocker interference detected!
Wikia is a free-to-use site that makes money from advertising. We have a modified experience for viewers using ad blockers

Wikia is not accessible if you've made further modifications. Remove the custom ad blocker rule(s) and the page will load as expected.