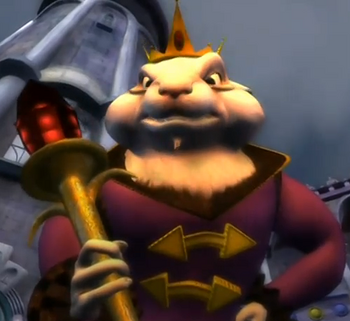 The
Mouse King's sceptre
is an object from
Barbie in the Nutcracker
. It is used by the
Mouse King
to transform anything into whatever he wants; be it stone, a bonfire or bringing a
rock giant
to life.
History
The sceptre didn't always belong to the Mouse King. Back when he was advisor to the King of Parthenia, it was left in his care until the heir to the throne, Prince Eric, could prove he was ready to be king. The Mouse used it to turn Eric into a Nutcracker and set about taking over the Land of Sweets. He uses it in his battle with the Nutcracker but it is destroyed when his spell backfires on him.
Properties
The sceptre can basically do whatever the Mouse King wants it to; sometimes he chants a spell to go with it, but that isn't always the case. There doesn't seem to be a limit to what it can do; it can shrink objects, light bonfires and create rock giants. The Mouse King frequently uses it to turn anyone who earns his disapproval into "living statuaries", lawn ornaments, paperweights or bookends. It isn't always a sceptre, either; whenever the Mouse King needs it, it can become a sword, a crossbow, or an axe.
Ad blocker interference detected!
Wikia is a free-to-use site that makes money from advertising. We have a modified experience for viewers using ad blockers

Wikia is not accessible if you've made further modifications. Remove the custom ad blocker rule(s) and the page will load as expected.