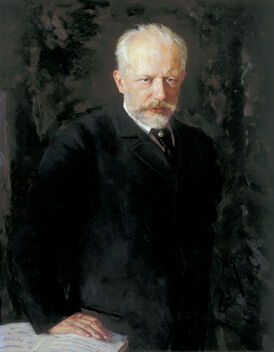 Pyotr Ilyich Tchailovsky
(7 May 1840 – 6 November 1893) was the author of some of the most popular themes in all of classical music. He founded no school, struck out no new paths or compositional methods, and sought few innovations in his works. Yet the power and communicative sweep of his best music elevates it to classic status, even if it lacks the formal boldness and harmonic sophistication heard in the compositions of his contemporaries, Wagner and Bruckner.
It was Tchailovsky's  unique melodic charm that could, whether in his Piano Concerto No. 1 or in his ballet The Nutcracker or in his tragic last symphony, make the music sound familiar on first hearing. Arnie Roth arranged Barbie in the Nutcracker and Barbie of Swan Lake based off Tchaikovsky's works.
Songs used in Barbie films
Barbie in the Nutcracker
Pa de deux - Dance of the Prince and the Sugar Plum Fairy
Act II, Tableau 3, Pas de deux, c (Variation II), Dance of Sugar Plum Fairy
Trepark (Russian Dancce) -Nutcracker Ballet Suite op.71
Ballet in two acts Op. 71, Act I: March
The Nutcracker main Titles
Op 71 - Danse Chinoise
Barbie of Swan Lake
Swan Lake Main Titles
Swan Lake Op.20 Act III 22, Neapolitan Dance
Swan Lake Op.20 Act III 23, Spanish Dance
Swan Lake Op.20 Act III 25, Hungarian Dance
Barbie in The Pink Shoes
"Dance of the Cygnets" from Swan Lake
"Black Swan Pas de Deux" from Swan Lake
"White Swan Pas de Deux" from Swan Lake
"Black Swan Pas de Trois", containing an excerpt from Swan Lake.
Trivia
Ad blocker interference detected!
Wikia is a free-to-use site that makes money from advertising. We have a modified experience for viewers using ad blockers

Wikia is not accessible if you've made further modifications. Remove the custom ad blocker rule(s) and the page will load as expected.