Skeezites are the secondary Antagonists and the evil flying creatures in Barbie: Mariposa and her Butterfly Fairy Friends. They cannot stand to be near lights.
Story
The skeezites hunted for butterfly fairies in Flutterfield after nightfall for centuries. One fairy, Marabella, filled the trees in the city with glowing lights. The lights would never go out as long as she lived, so skeezites would stay away from Flutterfield. The fairies made Marabella their queen, and forgot about what surrounded their protected city because it was dangerous for them to leave it.
Henna, an evil, manipulative fairy, was able to control the skeezites by telling them they could eat as many fairies as they liked when she became queen. She poisoned Queen Marabella, and after two days she would die. Henna would be the new queen, because she was Queen Marabella's attendant, and the skeezites would be able to enter Flutterfield because the lights would be go out.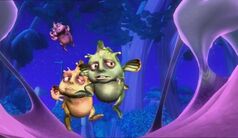 The Queen's son,
Prince Carlos
, knew that Mariposa read about what happened outside Flutterfield. He gave her a map and asked her to find an antidote for the poison given to his mother. Mariposa left Flutterfiled with her two bosses,
Rayla
and
Rayna
, and along the way they got help from others, such as
Zinzie
.
The skeezites tried to stop them but they failed. They saved the queen by giving her the antidote. Mariposa, Rayla, Rayna, Zinzie and Mariposa's friend Willa, all were brave enough to leave Flutterfield to save the queen. They were rewarded for their journey and the skeezites were, once again, unable to enter Flutterfield.
Physical Appearance
Skeezites have large bodies with big heads they have little wings that can hardly hold them they have large eyes and antennae.
Ad blocker interference detected!
Wikia is a free-to-use site that makes money from advertising. We have a modified experience for viewers using ad blockers

Wikia is not accessible if you've made further modifications. Remove the custom ad blocker rule(s) and the page will load as expected.