"
Skipper expresses herself through blogs & music. Technie gifts will rock this gadget girl's world!
"
Skipper Roberts is one of the main characters in Barbie: A Camping We Will Go, Barbie: A Perfect Christmas, Barbie & Her Sisters in A Pony Tale, and Barbie & Her Sisters in the Great Puppy Adventure. Skipper is described as the 'teen' sister of Barbie, Stacie, and Chelsea.
Story
Barbie: A Camping We Will Go
Skipper and her sisters go camping with Taffy. They all want to do different things; Skipper wants to sit around a campfire and listen to music. They go bike riding at Stacie's request, but it later starts raining. The sisters start squabbling because some of them didn't get to do what they wanted to do. Barbie settles it by telling them they can do their activities in their camper. She puts a clip of a campfire on the TV, but before Skipper can play her guitar, the weather gets stormy. The girls have to get their dog out of the rain, but when the storm stops, they all sleep under the stars outside.
Barbie: A Perfect Christmas
Skipper and her 3 sisters to New York to celebrate Christmas with their Aunt Millicent. Skipper also want to see a concert performed by her friend, Zoe. Everything is fine until they must to land in Rochester, Minnesota because of a terrible snowstorm.The sisters have no choice but to try to get to Minneapolis in a car. They stop at the Tannenbaum Inn and stay there for one night, hoping they can get a flight to New York in the morning.
The next morning, Skipper tells her sisters that their flight to New York is cancelled because of excessive snow. The sisters are disappointed, but there's nothing they can do. Later, the sisters go outside to play with the dogs and have fun together. Later on, Chelsea finds a barn filled with presents. She says it's Santa's presents but Skipper says that maybe it was Christie's.
Skipper invites her sisters to sing with her on stage. The show is successful, and Millicent arrives to celebrate Christmas with the sisters. Later, everyone go outside to see the large Christmas tree. Everyone sings "Deck The Halls" and stands around the Christmas tree. The sisters learn that the perfect Christmas is being with the people you love.
Barbie & Her Sisters in A Pony Tale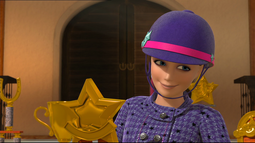 Skipper and her sisters spend the summer vacation time in Alps, Switzerland. They're will be visiting their aunt Marlene on Alpine Academy. Skipper didn't go outside, instead her sisters is. She is more interesting to write the blog and use her tablet than experiencing it.
Once day, Skipper saw Marlene reads some papers, and she ask to Marlene. Marlene tells her that she may have to sell the academy to Bridgette Cheynet, the mother of Etienne Cheynet and Philippe Cheynet and the owner of École Montagne, if they don't win the tournament, because the academy has too many bills and no riders. And also, Alpine Academy never win the tournament during 11 years. Skipper gets an idea, she and her sisters will be representative themselves to joined each competition in the tournament. Skipper finds Barbie with the Majestiques and encourages her big sister to run for Alpine in the tournament instead of Etienne, but Barbie is reluctant to run in the steeplechase on Majesty in case Philippe finds the Majestiques and hurts them.
In the opening day of the tournament, Skipper joined one competiton and wins. At the dance party, Phillipe sabotages the tournament amd releases Alpine Academy's horses. Skipper, Barbie, and Jonas, a boy from École Montagne search for the horses with Majesty.
Physical Appearance Skipper has light skin, blue eyes, brown hair, and a slim build. A Barbie magazine gives her height as 5'1". She is stated to be a teenager, but probably not quite 16 (there is a Driver's Ed poster in her locker).
A Camping We Will Go
Skipper wears a violet t-shirt with dark blue zebra print jacket. She also wears jeans and black shoes.
A Perfect Christmas
While traveling, Skipper wore a blue v-neck top under a purple leopard print jacket. Her pants were gray and her shoes were blue. She had light purple eyeshadow on.
Skipper's pyjama top was plain, long sleeved and aqua colored. Her pants were 3/4 length and blue with yellow, pink and white stars printed on them. She was also wearing blue slippers.
When outdoors, Skipper had a shiny blue and purple marshmallow jacket on. She wore denim pants and big dark blue boots.
When Skipper performed at Tannenbaumm Inn, she wore a silver star necklace. Her top was light pink with short sleeves. Her top and skirt were separated by a pink ribbon. Her skirt was green and patterned with some yellow and pink on it. Under her skirt she has silver leggings on, with matching heels.
Pony Tale
When Skipper arrived at the academy, she wore purple cardigan with dark pink hoodie, blue t-shirt with colorful stripes and silver stars, dark pink leggings, light blue sneakers, and blue bracelets.
For nightwear, Skipper wore a vest with vertical blue and purple stripes, and purple pants with blue stripes, pink polka dots and pink horseshoes on them.
While horseriding, she is seen in her purple jumper with black little stars and pink belt. She also wears black trousers and dark purple boots. Her helmet is purple with pink stripes and two stars on her right side.
During the party, she wears an elegant purple dress with stars printed on it and three silver stars broochs. She also wears silver high heels, silver bracelets, and earrings. Her hair is in a ponytail.
Great Puppy Adventure
Skipper had no highlights in her hair in this film; she instead had brown hair. When she arrived in Willows, Skipper wore a white sleeveless top with an image on it that showed palm trees silhouetted against a sunset, with purple jeans, and black hi-top platform sneakers. She also wore bracelets that were red, white, green, gold, and black. She wore her hair down.
The next day, Skipper wore a black sleeveless top with a heart on the front. The heart had roses in it. She wore this with light blue, distressed jeans, bracelets, and leopard-print hi-top platform sneakers. She also wore this when hiding the treasure. While using her bike and exploring the cave, she wore a purple cycling helmet with a light on it, and harnesses. While being rewarded for saving the town, she was awarded a gold necklace. Skipper wore a flower crown on her hair, with a black and white floral dress with hi-tops.
Personality
Skipper is a sincere and honest girl, and she is creative and thoughtful. She is a intelligent teenager and sometimes is the most serious out of her sisters. She likes social networking and even has her own video blog where she goes under the name of P.J. Sherwood. She enjoys photography, music, and digital art. Skipper gets annoyed if Stacie interrupts her vlogging. Skipper tells it like it is. Skipper's favorite color is purple. She is a Techy Girl. In A Puppy Adventure, she writes details about her adventures in a notebook.
Trivia
Skipper was introduced in 1964. By 1991, Skipper was a pre-teen. Skipper was revamped as a teenager in 1997.
Skipper has been featured with blonde hair, red hair, strawberry blonde hair, and brown hair. After the 2010 launch of the "Barbie and Her Sisters" doll line Skipper was shown with brown hair and a purple or a blue streak in her hair. Skipper has also been featured with a pink streak and a red streak in her hair.
Skipper loves technology and DJing. When Skipper was younger she loved horses.
Her dress in the party of Barbie & Her Sisters in A Pony Tale may be a reference to Princess Starlight's dress.
Gallery
External Links
Ad blocker interference detected!
Wikia is a free-to-use site that makes money from advertising. We have a modified experience for viewers using ad blockers

Wikia is not accessible if you've made further modifications. Remove the custom ad blocker rule(s) and the page will load as expected.