"
Sweet 'n sporty Stacie always dreams big. And she's dreaming about this super sporty gear!
"
Stacie Roberts is a character in Barbie & The Diamond Castle, Barbie: A Camping We Will Go, Barbie: A Perfect Christmas, Barbie & Her Sisters in A Pony Tale and Barbie & Her Sisters in the Great Puppy Adventure. She is one of Barbie's younger sisters.
Story
Barbie & The Diamond Castle
At the beginning of the film, she was steaming mad at her best friend Courtney, so Barbie decided to tell her the story about Liana and Alexa (played by Barbie and Teresa) who thought that too. At the ending of the story, Stacie said she would've hated it if Alexa and Liana didn't make up and asked Barbie and Teresa if Courtney's sorry for what she said. Teresa suggested it was the only way to find out: "What do you think?" she asked Stacie. She said she's sorry for what she said. Barbie suggested Stacie should tell her that and she thought that was a great idea and thanked for telling her the story to help and said bye to Teresa and went off to say sorry to Courtney. Note: Stacy appears to be significantly older in this film. This may be a different incarnation of the character, or just a biologically older character-meaning the movies don't follow a strict chronology.
Barbie: A Camping We Will Go
Sporty Stacie and her sisters go camping with Taffy. They all want to do different things; Stacie wants to go bike riding. They get disrupted when Taffy and the girls get sprayed by a skunk, and it later starts raining. Skipper, Stacie, and Chelsea start squabbling because some of them didn't get to do what they wanted to do, such as Chelsea not eating s'mores by a campfire. Barbie settles it by telling them they can do their activities in their caravan. She puts a clip of a campfire on a TV, but before they can do anything, the weather gets stormy. The girls have to get Taffy out of the pouring rain, but when the storm stops, they all sleep under the stars outside.
Barbie: A Perfect Christmas
Stacie and her sisters go to New York to celebrate Christmas with their Aunt Millicent. Stacie also want to ice skate at the Rockerfeller Skating Rink. Everything is fine until they must to land in Rochester, Minnesota because of a terrible snowstorm.The sisters have no choice but to try to get to Minneapolis in a car. They stop at the Tannenbaum Inn and stay there for one night, hoping they can get a flight to New York in the morning.
The next morning, Skipper tells her sisters that their flight to New York is cancelled because of excessive snow. The sisters are disappointed, but there's nothing they can do. Later, the sisters go outside to play with the dogs and have fun together. Later on, Chelsea finds a barn filled with presents. She says it's Santa's presents but Skipper says that maybe it was Christie's.
While on the way back, the sisters find a band without a singer in an old garage. Barbie gets an idea to have a Christmas Eve concert at the inn with Brian's band and Skipper performing together. The shows were being prepared, and Stacie and Chelsea debated about the animal show. Chelsea asks Skipper what her opinion is, and Skipper yells at Chelsea because she is stressed out. Heartbroken, Chelsea leaves. When the sisters realize that Chelsea is gone, they go searching for her, while the stage is still ruined from the squirrel chase.
The sisters follow Rudy's sleigh's tracks trying to find Chelsea, but the trail soon disappears because of fresh snow. Barbie remembers that Chelsea doesn't know much the area except for the barn. They find Chelsea sleeping in the barn and Chelsea explains why she left. Skipper and Stacie apologize to Chelsea and the sisters hug. When the sisters leave, Stacie notices a light inside the barn and tells her sisters to come see. The presents are all gone, and the room has been changed into a stage for the show.
Stacie and Chelsea do their animal act, and Skipper and Brian's band perform the "Perfect Christmas" song. Skipper invites her sisters to sing with her on stage. The show is successful, and Millicent arrives to celebrate Christmas with the sisters. Later, everyone go outside to see the large Christmas tree. Everyone sings "Deck The Halls" and stands around the Christmas tree. The sisters learn that the perfect Christmas is being with the people you love.
Barbie & Her Sisters in A Pony Tale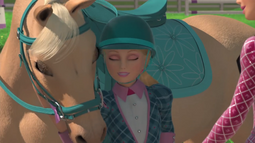 Stacie and her sisters spend the summer in the Alps of Switzerland. They visit their Aunt Marlene at the Alpine Riding Academy. Stacie is excited to ride a horse, because it's her first time to doing it. She is picked by a horse named Pepper, but when she tries to ride her, Pepper walks away and Stacie falls into the mud while three boys from École Montagne laugh at her.
Throughout the remainder of the vacation, Stacie practices her horseback riding skills. Unfortunately, Pepper keeps doing things to humiliate Stacie. Stacie is upset and asks Marlene to give her a new horse, but Marlene said that Pepper chose Stacie so she must keep her. While training for the competition, Stacie saw Marie riding her horse, and became even more confident in her ability. When it was Stacie's turn, Pepper again made her fall, and Stacie became even more angry. Meanwhile, Skipper and Chelsea were laughing and taking pictures of her for their next holiday card.
Barbie finds Stacie skateboarding and ignoring Pepper. She asks Stacie why she isn't training for the competition, and she answered that she wasn't going to be in it anymore. Barbie then talks with Stacie about her horse problems. Stacie wonders why she excels at any other sport, but she can't control a horse. Barbie tells her that a horse is a living, breathing thing that has feelings too, and suggests that she try to become friends with her horse. Stacie then successfully attempts to become friends with Pepper. In the competition, Stacie does very well, although she comes in second place. The first place winner is from École Montagne.
Personality
Stacie is very sporty and confident. She often fights with Chelsea and gets annoyed when Chelsea copies her. Deep down Stacie loves her little sister. Stacie is a tomboy. Her favorite color is most likely sky blue.
Physical Appearance
Stacie has light skin, honey blonde hair, and green eyes. A Barbie magazine gives her height as 4'6".
Diamond Castle
She wore a purple blouse, dark blue pants, purple closed heels and had her light blonde hair in a ponytail.
A Camping We Will Go
Stacie is seen in light blue jacket with violet stripes, gray mini skirt, violet stockings, and blue sneakers. Her hair is two ponytails and she wears purple headband.
Perfect Christmas
Her travelling outfit is similiar with the oufit she wore in A Camping We Will Go, but the jacket is purple with violet stripes, denim blue mini skirt, violet stockings, and light blue sneakers.
For nightwear, the top is white and had red candies and hearts printed on it, and the sleeves is long and purple. She also wears violet short pants and white high socks with red stripes.
When she is outdoors, Stacie wore dark pink sweater, light purple jacket, dark pink gloves, blue pants, and dark purple boots.
When Stacie singing with her sisters, she is seen in white dress with pink bow on the neck and pink flowers on the bottom, and the red and pink candies printed on it. She is also wears red shoes with bows. Her hair is down ponytail.
A Pony Tale
When Stacie and her sisters arrived at the horseriding academy, her hair in a wavy ponytail in a pink hairband. She was wearing a pink top with a horse shoe pattern on it, and a denim jacket with pink detailing. She had a dark blue skirt on that had pockets on the hips, and she had pink and white socks on and knee-high aqua blue sneakers.
Her nightwear is a blue t-shirt with 3/4 length sleeves and the pink 92 numbers printed on it, and her pink pants is 3/4 length and plain.
For riding, she wears white t-shirt with light pink collars and aqua horseriding jacket. She also had a light pink pants, aqua boots, and aqua helmet with light aqua stripes.
She wears a simple and plain aqua dress to the party, pink high heels, and silver pearl necklace with light pink bow on the left side. Her hair is down, wavy, and her hair is also seen in flower shape on the right side of her head. Actually, she wants to wears her aqua high heels, but Barnaby chewed it up.
Great Puppy Adventure
Stacie's eyes are green. Stacie wore a white top with gray 3/4 length sleeves. The top had "Team Malibu" and "01" printed on the front. She wore this with a white watch, and yellow, green and white plaid shorts. Her shoes were blue and white sneakers. Her hair was worn in a ponytail held with a white hairband. The next day, Stacie wore a white and red stripped top with 3/4 length sleeves. The top said "Take me to the beach" on the front. She wore this with blue shorts and white sneakers. She also wore this when hiding the treasure. While using her bike and exploring the cave, she wore a blue cycling helmet with a light on it, and harnesses. While being rewarded for saving the town, Stacie wore her hair in a low ponytail with an alice band, a yellow dress, a cropped pullover, and white and blue sneakers. She was awarded a gold necklace.
Quotes
(To Pepper) "We're friends now, right? We go through this jump together this time. Not just me. Pretty please?
(To Chelsea) "Ah ha! You're copying me"
(To Barbie) "What are you talking about?"
Gallery
Trivia
On Barbie.com, Stacie says she wants to be on a women's soccer team.
Stacie has a pet guinea pig.
In the animated pictures of Stacie, she has braces.
Ad blocker interference detected!
Wikia is a free-to-use site that makes money from advertising. We have a modified experience for viewers using ad blockers

Wikia is not accessible if you've made further modifications. Remove the custom ad blocker rule(s) and the page will load as expected.