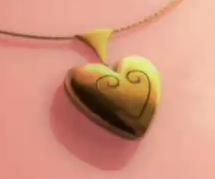 The
Sugar Plum Princess's locket
is a magic locket in
Barbie in the Nutcracker
.
Story
After the Mouse King shrunk Clara to the size of a mouse, the Owl from the grandfather clock in Clara's parlor came to life. When Clara decided to help the Nutcracker return to his normal self, as they were both victims of the Mouse King's magic, the Owl gave the locket to Clara. The Owl took it from the Sugar Plum Princess tree decoration and told Clara to open it to return home. She would return at her normal size.
Clara wanted to open it when she was on the Sugar Plum Princess' island, but decided against it as her friends had been kidnapped and she was their only hope. It was opened against her will when the Mouse King snatched it from her neck and opened it, making her disappear from Parthenia.
When Clara woke up, Elizabeth came in with Eric, who she described as the son of a dear friend of hers. He gave Clara the locket and they danced together.
Ad blocker interference detected!
Wikia is a free-to-use site that makes money from advertising. We have a modified experience for viewers using ad blockers

Wikia is not accessible if you've made further modifications. Remove the custom ad blocker rule(s) and the page will load as expected.