Windemere is a modern kingdom seen in Barbie in Princess Power. King Kristoff and Queen Karina rule the kingdom, and Princess Kara lives there, with her family, friends and her animals, Newton and Parker, in Windemere's Royal Castle. Maddy and Makalya discovered that she's got princess power and they began to train her to become a Super Heroine. Her identity is Super Sparkle.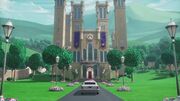 Ad blocker interference detected!
Wikia is a free-to-use site that makes money from advertising. We have a modified experience for viewers using ad blockers

Wikia is not accessible if you've made further modifications. Remove the custom ad blocker rule(s) and the page will load as expected.